Russian invasion of Ukraine highlights Europe's susceptibility to Russian energy
The Russian invasion of Ukraine has exposed Europe's susceptibility to Russian energy. Over 40% of Europe's natural gas and 25% of European oil comes from Russia. Russian President Vladimir Putin is willing to take advantage of Europe's reliance on Russian energy to gain political dominance through the invasion of Ukraine. The European Commission President, Ursula von der Leyen, stated, "A strong European Union cannot be so reliant on an energy supplier that threatens to start a war on our continent." Relying on Russian oil for energy will make it impossible for European countries to cut off ties with Russia and put them in a struggling economic position without resorting to new means of energy (1).
Europe must become more reliant on self-generated energy via green technologies. As seen on March 2, 2020, the European Union (EU) announced a 40% decrease in fossil fuel use by 2030. With the new necessity to build new energy sources and new green bills, it is probable that Europe will turn greener (2). To compel European countries to take steps toward increasing clean energy production, with the eventual goal of being less reliant on Russia, one EU policy maker said, "The idea is not to be subject to potential disruptions from one provider." Russia has a stranglehold on European energy, and it can easily raise prices or cut off supplies. By becoming more self-sufficient, Europe will hopefully place Russia in a situation where it will be unable to instigate wars (1).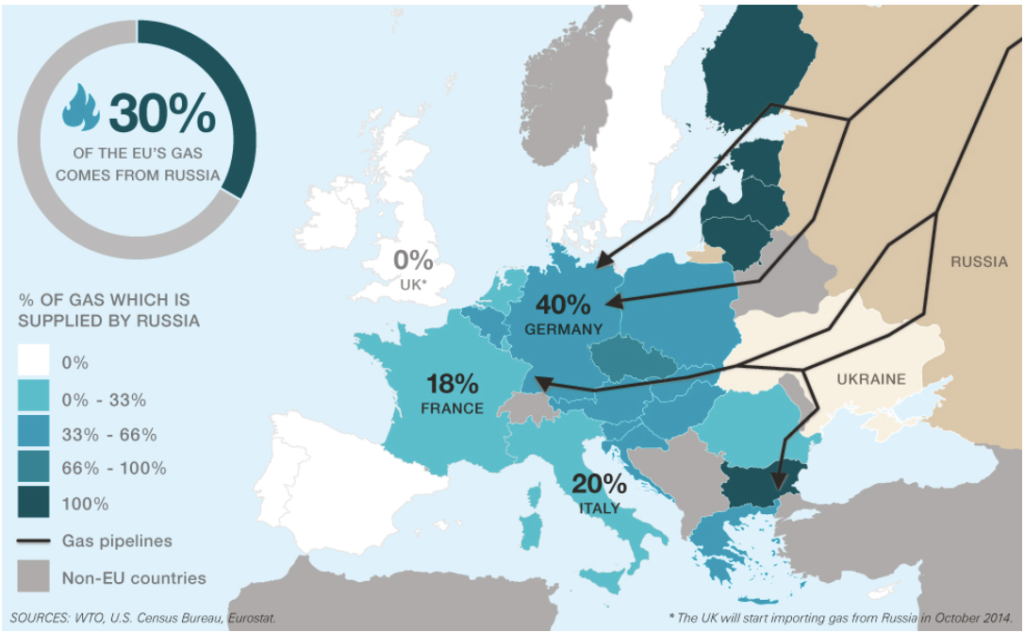 Change towards being less reliant on Russian fossil fuels is already taking place today. In order to reduce the Russian natural gas supply to France, French President Emmanuel Macron built more than a dozen nuclear power facilities during the winter. In addition, Denmark plans to quadruple solar and onshore wind energy by 2030 with the goal of ending the use of natural gas (3). Although this energy option is not perfect, the new facilities will reduce the EU's reliance on Russia; as another EU policymaker explained, "We're trying to wean ourselves off Russian gas so that when the time comes in 2028, 2029, 2030, and Russia decides to close us out, we'll be fine." Similarly, Germany has suspended Nord Stream 2, a 1,234-kilometer natural gas pipeline that runs through Russia to Germany and is financed by numerous European energy corporations. The pipeline has been importing Russian gas to Europe since the start of the Russian-Ukraine war (1). It will take time for Europeans to develop new renewables and convert their energy and heating sources, as well as time to construct this new infrastructure. However, there are still threats to end Russia's monopoly on energy as Russia could simply start exporting more gas to China, promoting the demand for Russian energy (2).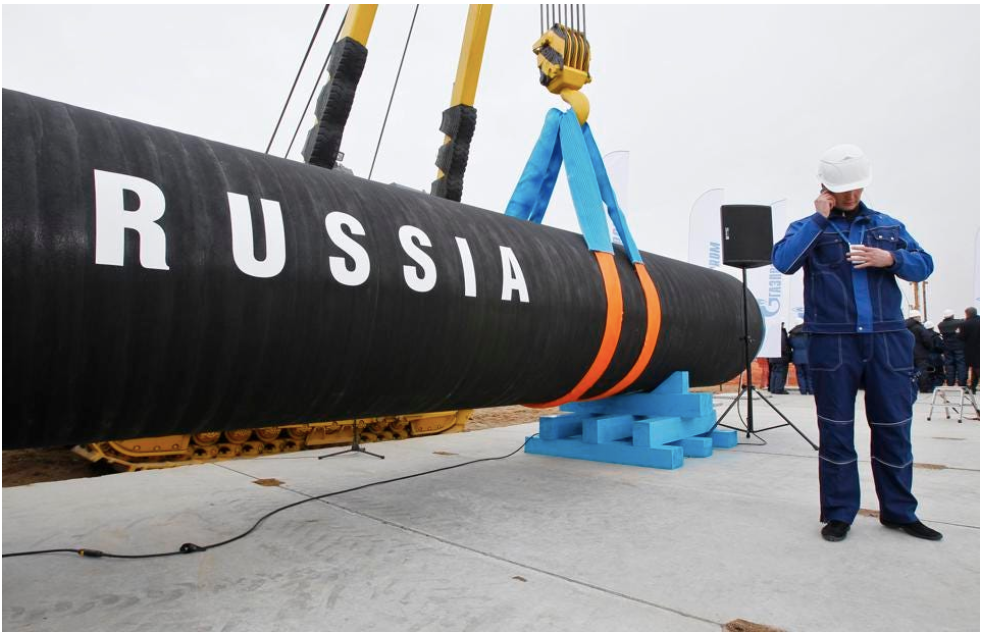 Putin's increasing instability and deadly actions highlight the necessity for the world to distance itself from Russia. The major engine of Russia's economy will be shut down as Europe transitions to new self-sufficient energy sources. As a result, the globe can become less reliant on Russia, which should reduce Russia's influence on European policies in the future.
Citations:
Birnbaum, M., & Mufson, S. (2022, February 24). E.U. will unveil a strategy to break free from Russian gas, after decades of dependence. The Washington Post. Retrieved April 19, 2022, from https://www.washingtonpost.com/climate-environment/2022/02/23/russia-ukraine-eu-nordstream-strategy-energy/. 
Martínez, A., & Northam, J. (2022, April 11). European Union leaders consider reducing their dependency on Russian energy. NPR. Retrieved April 16, 2022, from https://www.npr.org/2022/04/11/1091980565/european-union-leaders-consider-reducing-their-dependency-on-russian-energy 
Market Trading Essentials. (1969, December 31). European gas falls to lowest since Russian invasion of Ukraine. Market Trading Essentials. Retrieved April 19, 2022, from https://www.markettradingessentials.com/2022/04/european-gas-falls-to-lowest-since-russian-invasion-of-ukraine/ 
Images:
http://edition.cnn.com/2014/07/22/business/russian-gas-eu-sanctions/index.html
https://www.forbes.com/sites/davekeating/2019/02/08/why-did-france-just-save-nord-stream-2/?sh=36adffc60550